U-MARQ GEM-CX is the Great, Easy-to-Use Counter-top Engraving Machine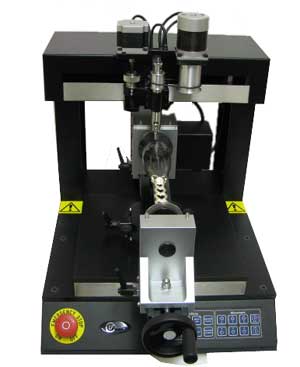 U-MARQ GEM-CX5 engraving machine is one of the top selling machines made by U-MARQ Ltd. The U-MARQ GEM-CX5 is an easy to use engraving solution. It is easy to set up and use in any retail shop or other environment, where fast and efficient engraving of single or multiple items is needed.
The GEM-CX5 machine has the capability to engrave almost any material. Most metals, plastic, wood, wax and glass to name just a few. It has a flat engraving area of 9" x 7". The cylindrical workspace is quite large with a diameter capacity of 5.5" and a vice opening space of 11" in length. These dimensions and material capability puts the GEM-CX5 machine in almost any working environment. It can engrave gifts, jewelry, trophies, tankards, glass, tags, labels and many other objects. The GEM-CX5 engraving machine is one of the most countertop friendly machines in its class as well, with the dimensions of 24" long x 16.5" wide x 17" tall.
For the jeweler the GEM-CX5 can also be used to cut out names and shapes in gold, silver and copper sheet material. Add the inside and outside ring attachment makes the GEM-CX5 the complete engraving solution.
The U-MARQ GEM-CX5 can cope with most industrial marking tasks as well. Labels, switch sockets, tags, tools, identification plates and more. GEM-CX5 can handle them all with speed and precision. With its generous engraving area no task is too demanding.
The GEM-CX5 is a true four axis machine, giving the user absolute control over the cylindrical axis. The cylindrical axis can be used to engrave trophies, tankards and glass. Using the unique U-MARQ Depth Profile function in our Universal Engraving Software (supplied as standard), conical and curved surfaces are easily coped with. For ultimate versatility the vice beam swings 180° to enable you to engrave larger text areas required on some items.
Comes equipped with the state-of-the-art and easy to use U-MARQ CX engraving software.The U-MARQ CX engraving software package has the new and unique Depth Profiling function and also includes the scanning and automatic vectorization of logos. You can also add on the additional Photo Engraving software to engrave pictures on metal objects.

The U-MARQ GEM-CX5 is truly one of the fastest, least expensive and most versatile engraving machines on the market today.