U-MARQ GEM-RX is the most versatile small retail engraving machines available.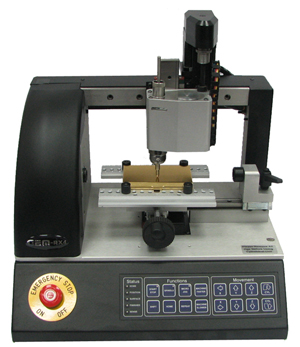 The U-Marq GEM-RX5 combines state of the art computerized engraving technology along with the design and functionality for the jewelry and gift engraving market. The U-Marq GEM-RX5 is designed to personalize precious metals (gold, silver and platinum) as well as stainless steel, titanium, brass, plastic, wood, wax and glass. Precise engravings can be created smaller than .05 mm, and artwork or logos can easily be imported and engraved. Engravings can be produced on the inside and outside of rings, on flat, curved, circular and cylindrical surfaces. U-Marq GEM-RX5 is perfect for the gift engraving market!
The U- Marq GEM-RX5 was developed to provide the operator with easy design creation and fast professional results. It is simple to set up and easy to use on any retail store countertop or craftsman's workshop. The U-Marq Gem-RX5 software provides fast and efficient engravings that can produced on a single piece or multiple items. The U-Marq Gem-RX5 is very versatile - capable of placing a filigree design on a fine gold bracelet to placing a photo on the case back of a Rolex watch.
Pen Engraving - GEM-RX5 will engrave 360 degrees around a pen or other small cylindrical objects.
Pet Tag Engraving - GEM-RX5 engraver is ideal for engraving Pet Tags quickly and efficiently with templates for all U-MARQ Glitter Pet Tags and other makes.
Inside/Outside Ring engraving - By fitting the U-MARQ optional Inside/Outside Ring Engraving attachment, your GEM-RX5 engraver is turned into a fully featured jewelry engraving center with virtually no limits.
Engraving Jigs - The wide range of push-fit engraving jigs quickly clamp any item, including; scrolls, medals, cuff links, watches, trophy plates, pet and ID tags, rings, bracelets, clocks, pendants, baby gifts, key fobs, lighters, decanter labels, photo frames, hip flasks, business card holders, laminate signs, badges, labels, brass plates and other items. With unique pressure settings, even fine gold lockets can be engraved without fear of damaging them.